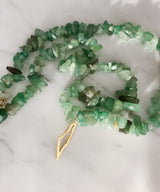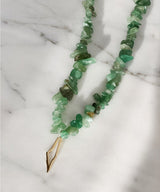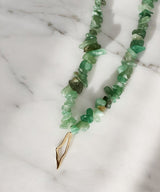 Palestine Outline Map Green Aventurine Chip Beaded Necklaces
Keep your homeland in your heart no matter where you are, and now you can wear it around your neck too. 
The Aventurine Chip Beaded Necklace features a Palestine Outline Map design in 141kt gold.
Green Aventurine stands for life force. Many people believe it is a lucky stone that can help you set your goals and manifest prosperity.
The pendant is crafted from 18kt yellow gold

Pendant Size: Medium (2.2 cm)

Green Aventurine stone chip chain

Each stone is unique, therefore slight variations in natural characteristics may occur

Made in Dubai
Pre-order:
Pre-order items will be ready to ship 5-7 days after purchase.