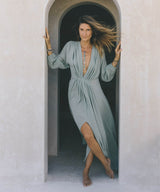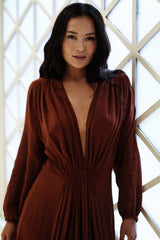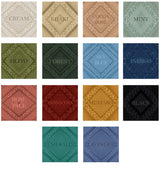 Distinguished and unique long dress made of cotton gauze, with long sleeves with mother-of-pearl shell buttons. It has a deep neckline that, like our other designs, reflects our sensuality. Elastic in the center on the back and front accentuating the waist.
100% Artisanal cotton gauze
Available Colors: Black, Cocoa Rose, Mustard, Cream, Khaki, Terracota, Sky Blue, Forest, Indigo, Pale Rose, Mint, and Olive
Size: One Size
Made in Mexico
Production Time:
The dress requires 10-15 days to produce.
Care Instructions:
Wash by hand or machine in a delicate cycle
Neutral soap
Coldwater
Do not dry in the sun
Do not use a dryer
Do not squeeze
Do not use bleach
Does not require ironing